History from 1993 to 1997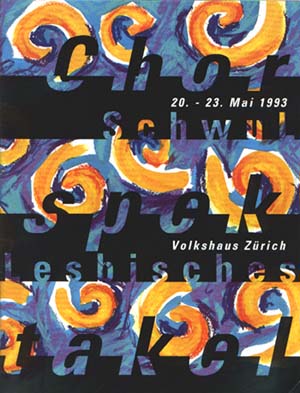 1993
As part of our fifth anniversary the very first Open Stage evening (Tussen-de-Schuifdeuren avond) was held. And it became a success. Zangzaad participated in the European Gay &Lesbian Choir Festival in Zuerich. They got back home with the assignment to organize likewise (!) in Groningen in 1995 ! Zangzaad performed during the holidays of Aids patients in Huize Ysselvliedt at Wezep for the first time. The lustrum concert took place in Huize Maas (Groningen).
1994

In het kader van Gay Pride nam Zangzaad deel aan het korenfestival in de Rode Hoed.
In de korenronde werd opgetreden in het kerkje van Garmerwolde.
Zangzaad feestte mee met de jarige Mac.
Op 1 december bracht Zangzaad in de foyer van de Oosterpoort nummers ten gehore ter gelegenheid van Wereld AIDS-dag.
Er was een optreden in Huize IJsselvliedt in Wezep en er werden in de tuinen foto's gemaakt.
1995
The year of Various Voices in Groningen (European Gay & Lesbian Choir festival). Many choirs performed throughout Groningen (City & Province), which concluded in a 1600-visitors(!) evening at the Evenementenhall. To round up the evening the Various Voices hymn was sung. This song has been composed by Marijke Harsevoort and given its lyrics by Hannie Diemer.
A resounding success.

After the festival the choir took some time off to recover on the beautiful island of Ameland.
As a result of the festival Zangzaad was invited to come to Emden.
In Utrecht we performed at the jubilee of the Cantatori del Duomo. Some snapshots of our singing together.
1996
In this year Cantatori del Duomo returned our visit and came to our "Kermis Concert" in Huize Maas. In Oldenburg we performed on Christopher Street Day, the German/American Pink Saturday. The first of December we co-hosted the Aids Benefit night in Huize Maas. Preparations were started for Various Voices '97 in Munich.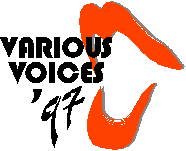 1997
Zangzaad travelled to Various Voices in the Munich Philharmonic to put their repertory of cowboy songs on stage for the first time.
Accompanied by a cow and a campfire (a camp fire, indeed!)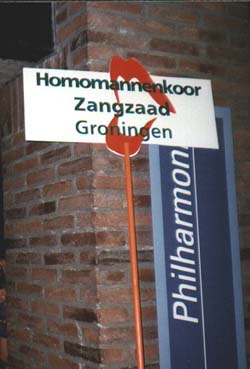 Hamburg's Schola Cantorosa invited us for the entire weekend and we took part in both concert nights.
Zangzaad got new T-shirts that year with a musical illustration on the chest.