History from 1988 to 1992
1988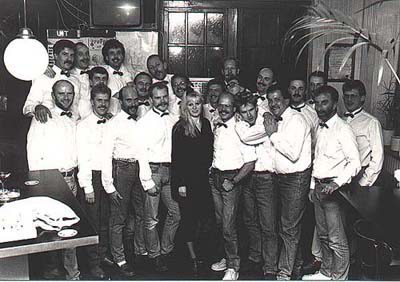 November the 16th 1988 the Groninger gay male choir was founded. A group of regular customers of the pub "Leto" had so much fun in singing together, that they decided to found a choir.
Democratic decision-making in its first week of existence led to the resounding name of "Zangzaad & Pootgoed" (Birdseed & Seed-plants) -with connotations in Dutch for 'sperm'(=zaad) and 'poof'or 'faggot' (=poot)-.
After one week just, plain "Zangzaad"was thought efficient enough. A notion was born!
Within a short while a female conductor was hired. Rehearsals started with Anne Marie Blink inspiringly in charge.
Zangzaad was -and still remains- a choir that most of all enjoys the singing itself.
1989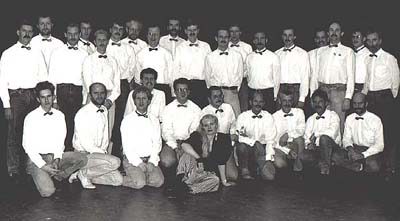 The very first concert was given January 1st in the former Leto at the Gelkingestraat.
March 1st we went ahead and did it all over again in the new Leto at the A-Kerkstraat.
Following performances were in the old people's home Julsingaheem and on Pink Saturday in Haarlem: There we were, changing in the middle of the street and climbing some small ramshackle stage to perform for the first time in the open air for a bigger audience…….with shaking knees. Zangzaad was still dressed casually in jeans then, but later on in that year opted for a real choir outfit.
1990
The first concert really-on-our-own was taken care of in the "Grunneger Sproak". Zangzaad took the stage and 'unveiled its anonymity' according to a newspaper scrap.
Other performances were a.o. with the electoral meeting of D'66, with the jubilee concert of the Choir Union at the Oosterpoort and with the small-scale choir festival at the Concertgebouw De Vereniging in Nijmegen.
In this year "Guster nog" was made , the text in Groninger dialect on the Beatles' Yesterday: the first text Hannie Diemer has written for Zangzaad. Many beautiful texts were to follow later.
1991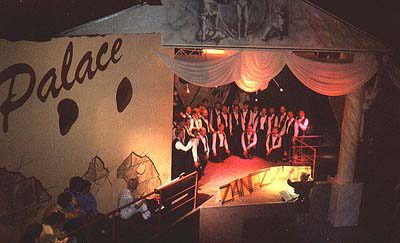 We first appeared on radio with "Muziek Melange"on Radio Noord. Our own concert took place in discotheque "The Palace" the 24th of March of this year. This also meant the last performance under the direction of Anne Marie Blink.
After a farewell party held at the Prinsentheater in June together with some of her other choirs Anne Marie moved to Amsterdam. She was succeeded by Marijke Harsevoort, under whose guidance the first coöperation took place with the Mixed Ladies'Choir at a Midwinterconcert.
1992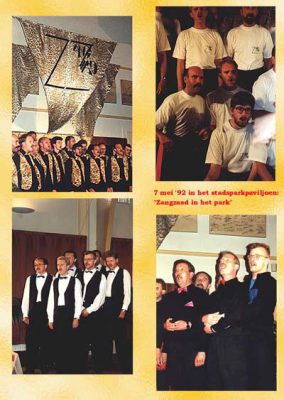 Together with Marijke we worked on new repertoire. And with this Zangzaad took a new direction.
Our own concert was given in the Stadspark pavilion.
Zangzaad held a concert as part of the Pink Week in Groningen. While the bells of the Martini rang loudly we were trying hard to pitch the correct first note standing on the Grote Markt!